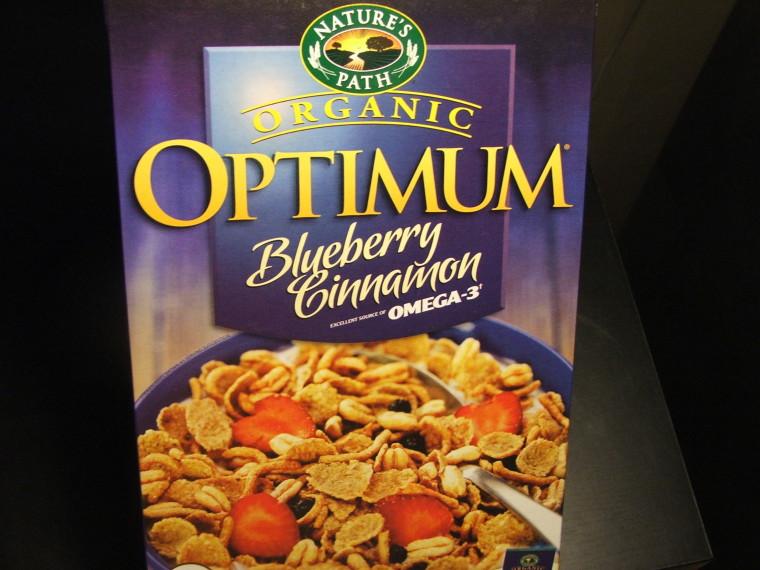 I just finished breakfast on my balcony.  Watching the sets roll in, I enjoyed my new favorite cereal (Optimum Power Cinnamon Blueberry) Seriously, it's life changing.
When I woke up, I didn't even have to get out of bed to see check the surf; all I had to do was look out my sliding glass door: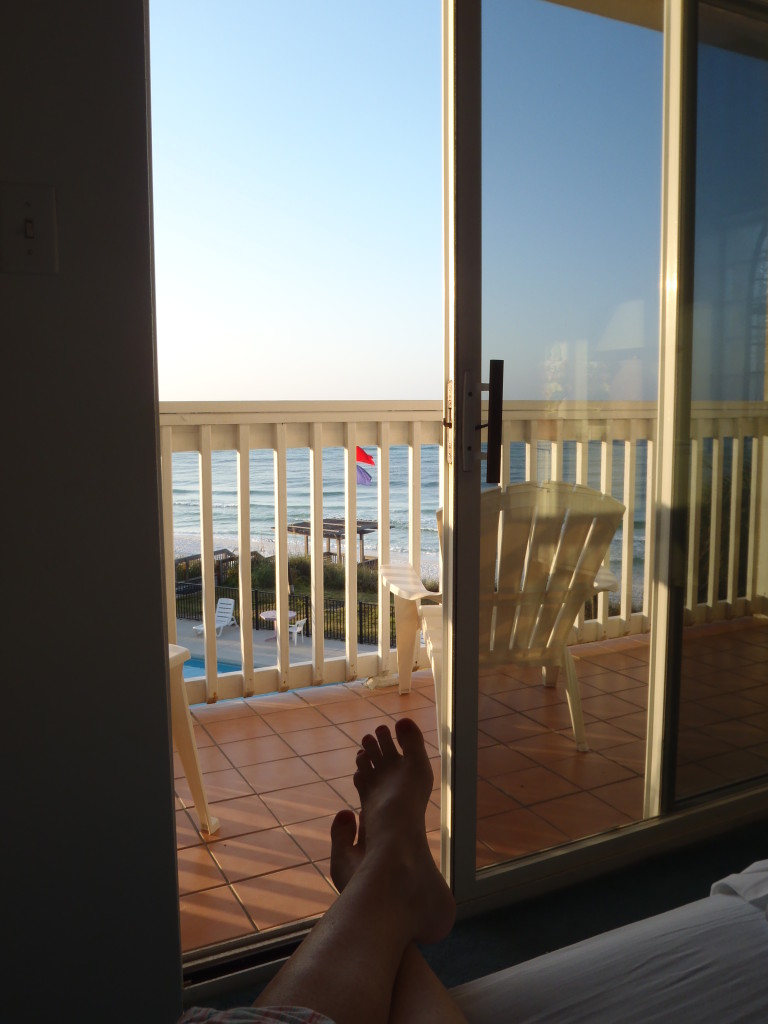 I slept with the door open so I could hear the waves and the wind blowing through the top of the palm tree that reaches just to my balcony.  The winds started to pick up yesterday evening after I came in from surfing and they've been going ever since.

About a week ago, I started noticing a bump on Swellinfo that promised of good surf for this weekend and I've been holding my breath ever since.  The surf here is just so unpredictable, so to plan a trip around it is a little bit of a gamble.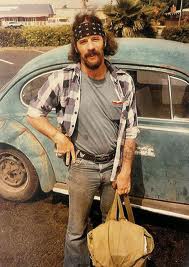 But I think that's the whole thing about surfing; you just have to go when it's good – which is why the majority of surfers are teenage guys who don't care about their GPAs or middle-aged hippies who probably don't contribute to the tax base.
It looks like there's some weather brewing, as it's supposed to rain this afternoon, so I guess that's what is pushing up this swell.  The waves are coming in from the southeast and the northern winds are keeping them clean.
They were pretty tiny yesterday so I only scored a few rides but there was a family on the beach watching me.  They were packing up when I came drifting by (yes, I continue to do that – I still don't hold my lineup very well) and they stood on the beach for a while waiting for me to get up.  Luckily, my one good ride came during this point so I didn't embarrass myself too much.
I stayed out long enough to see the sun dip into the gulf before packing it in.  As I rinsed off my board at the top of the staircase, I looked down about 30 feet to the gulf.  The elevation in this area is the highest of the surrounding counties so it makes for some stunning views.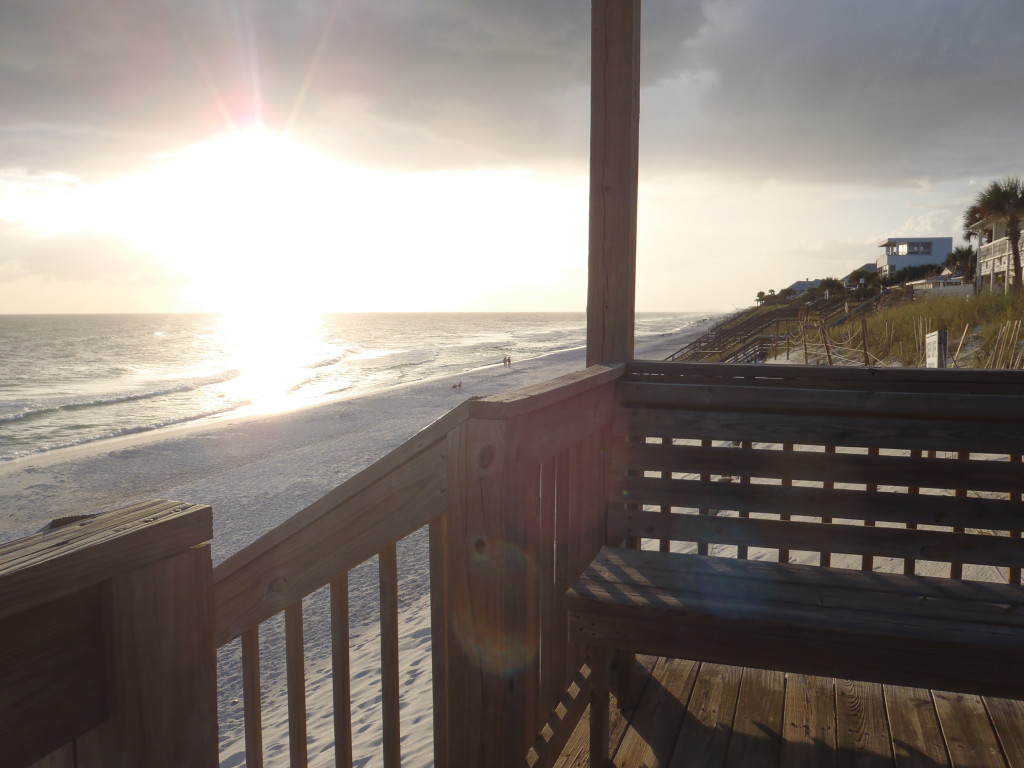 The sky was still glowing with oranges and pinks from the recent sunset and flitting around in the peach light were hundreds of dragonflies.  I'll never forget the beauty of that moment; it was an incredible sight.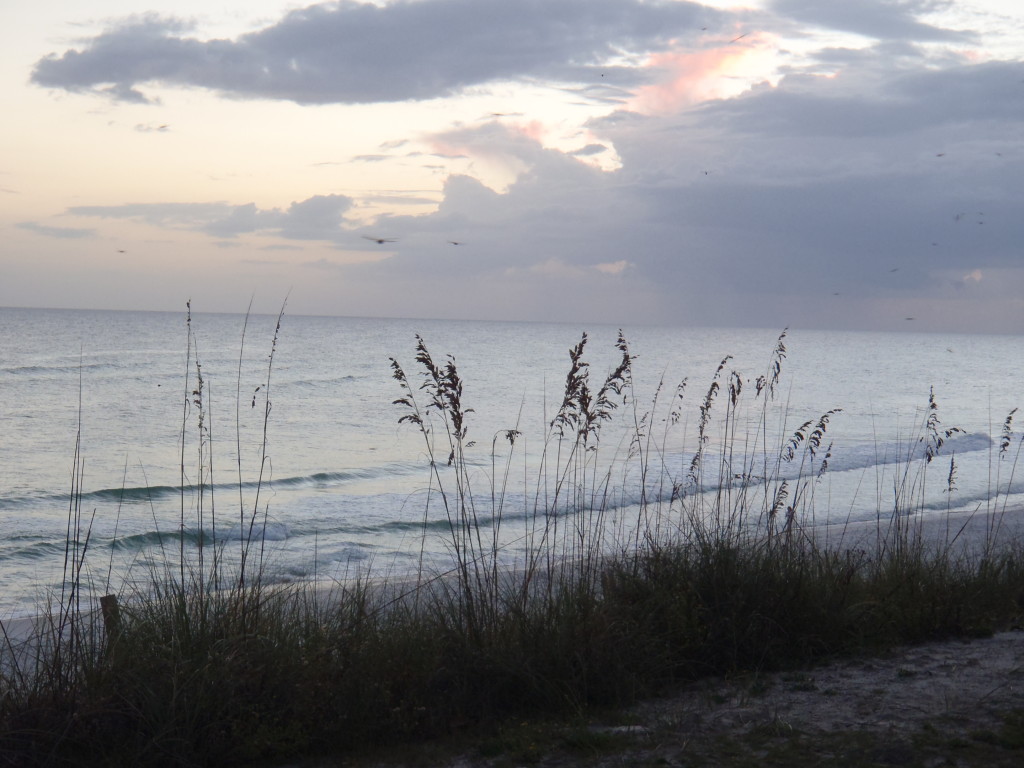 I walked across the green lawn to the building where my room is and when I reached the top of the stairs, I came up to the coolest collection of flowers sitting just outside my door.  There are sunflowers, red and yellow daisies, these fantastic orange flowers in the shape of bonbons (hello – my favorite).  It is the most cheery arrangement I've ever gotten!  Ted (always one to rise to the occasion) had flowers sent to my door!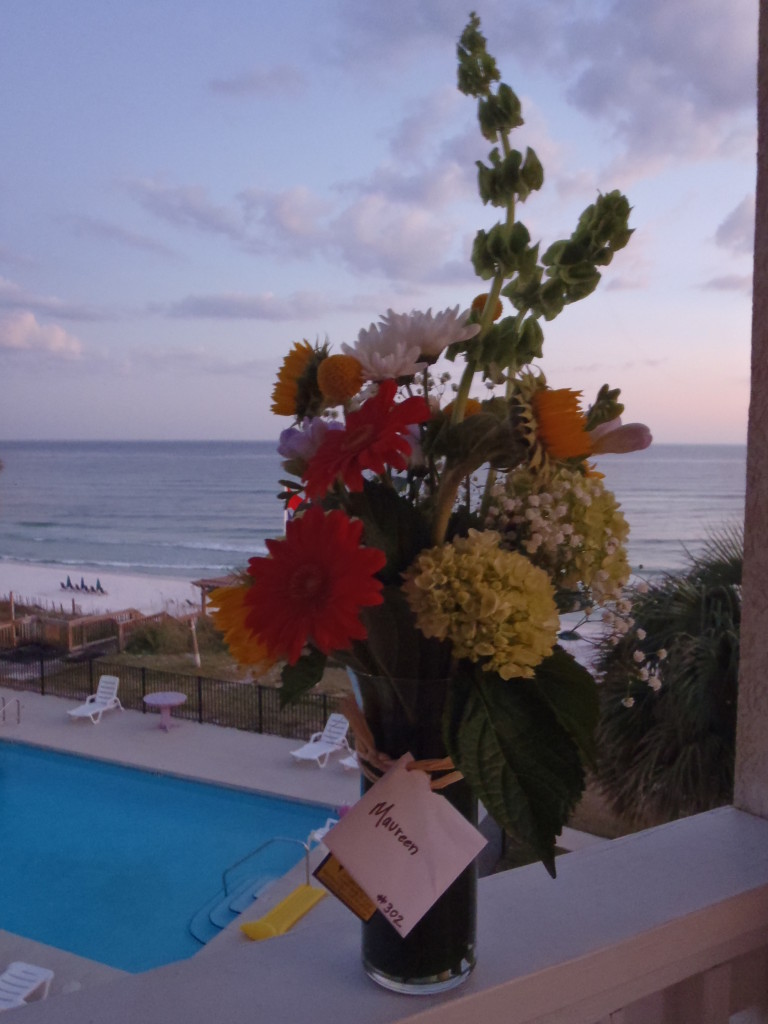 What a way to begin the weekend.