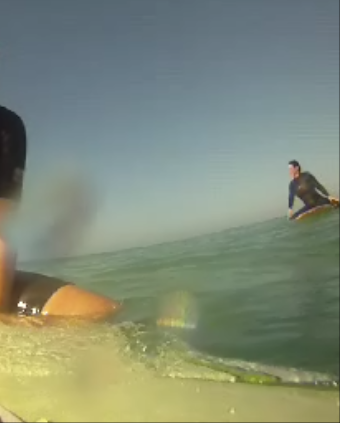 What a day to give thanks!  It's unseasonably warm for late November and the sky was the deepest, clearest blue today that you could ask for.  The water temp is now somewhere in the mid-70s, so it was perfect for our new wetsuits.
Ted's daughter came in town for the holiday and our family dinner at my parent's didn't start until 3:00.  That gave us plenty of time for a morning session before we needed to get in the kitchen to prepare our dishes.  So we loaded up our boards and drove down to the state park.

We were not by any means the only people with this idea – all the local surfers and stand-up paddle boarders were out in the water, and everyone had the same goofy grin.  We quickly realized why when we looked at the waves.
They were slow lefts, meaning they closed out slowly from right to left rather than breaking all at once soon after they built tall enough to ride.  These are the conditions that make for the long rides that surfers absolutely covet.  More importantly for my skill level, the waves weren't too big but yet they were powerful, so they were super easy to get up on.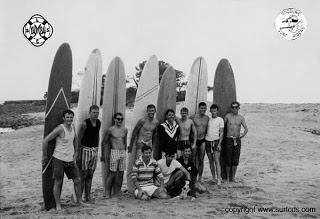 We had a blast watching the soul surfers – many of whom were around when surfing first emerged along our coastline.  It was beautiful to see their classic wave rider style: standing tall on their longboards, close to the nose, with the front foot extended out like a graceful dancer.
The boards themselves were works of art.  One man had a wooden board akin to those of the 1950s when the sport was first gaining popularity.  Sharing waves with these soul surfers made me appreciate this wonderful hobby all the more.
Just before calling it a day (there was pear salad and minced meat pie to make), the three of us all spotted the same wave.  We had been chatting in our own little lineup away from the crowd when we saw this perfect wave slowly approaching from the horizon.  Almost in unison, we turned our boards to face the beach, dropped to our bellies, and started paddling.
Usually when several surfers all vie for the same wave, only one or two end up catching it; it's just the way it goes.  For us though, the heavens had another plan.  All three of us caught this beautiful, clean wave and when we each realized that the other two had the same fortune, we squealed with delight (okay, maybe not Ted, but he was pretty freaking stoked too).
We were grinning from ear to ear, cheering each other on all the way to the beach.  It was amazing…a wave that we'll never forget.
What a great way to spend Thanksgiving Day morning.